Simplified, Modern Collaboration
Microsoft Teams is a communication solution for chatting, meeting, calling, and most importantly collaborating within your organization. Teams puts all of your groups, meetings, calls, and files in one place for easy locating and sharing. Work with your entire department in one chat window, talk with anyone, anywhere with screen sharing and video capabilities.
Is Teams Replacing Skype for Business?
In short, yes, Microsoft Teams will eventually replace Skype for Business, but don't worry, Teams can already do everything Skype can do and more. Teams offers more advanced calling, file sharing, and overall communication features not previously available on Skype for Business. For now and the foreseeable future, Skype for Business will continue to be supported by Microsoft, but it is clear Teams is the future and will be receiving the bulk of Microsoft's attention going forward. Read on to learn more Teams and what it can do to promote active and thoughtful collaboration in your organization.
Visual Organization
Arrange groups, departments, and entire offices in an easy, visual manner. With Teams, it's easy to outline your entire organization into teams and channels which are easy to create and customize. Set up teams for marketing, customer service, sales, or the other groups your organization uses for direct communication with the people your departments need. Looking to speak with just a few people on a team who are involved in a certain project? Customize channels to limit confusion and further define groups of people that need to be involved in relevant conversations.
Essential Communication Tools
Teams includes all the essential internal communication channels that a business needs. One-on-one chat, teams, and channels within a team make it easy to jump between conversations while still keeping items separate. Video/Audio calling is a breeze and can be initiated right from a chat window. Host up to 15 people in a conference call without issue. Use Teams to communicate with people outside your organization, such as vendors and suppliers, with the Guest Access feature that allows anyone with an email account to use a Guest account in Teams and gain access to company meetings, teams, or files.
Like Slack? Try Teams
Microsoft Teams takes what made Slack so popular - simple, visual, group management & collaboration- and improves upon it. Teams contains powerful features and capabilities in its free version that Slack charges a monthly fee for or simply doesn't offer at all. Whether you're chatting, audio calling, video calling, hosting webinars, or just collaborating in general, Teams helps you do it better. For an in-depth analysis of features, pricing details, customer reviews and more between Teams and Slack, read our comparison piece here.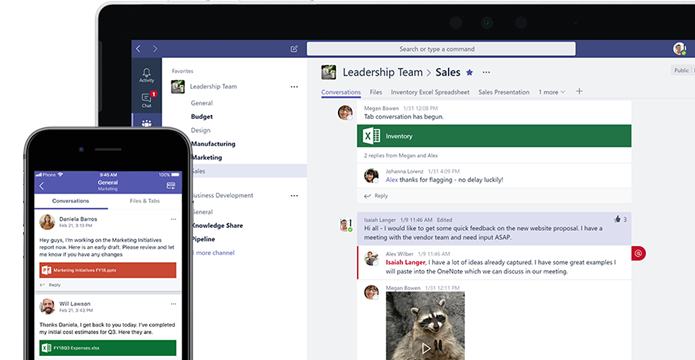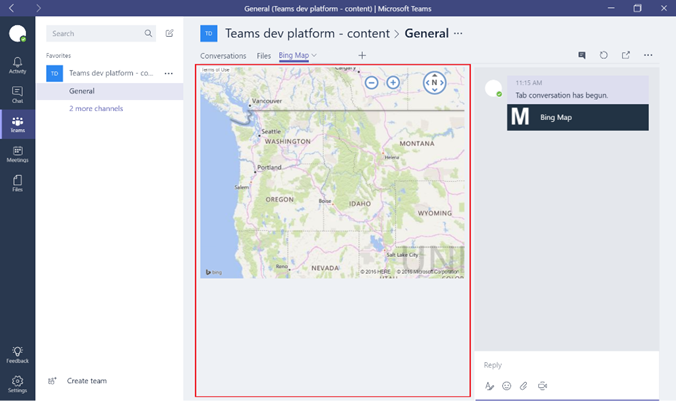 *Images used with permission from Microsoft
Microsoft Teams is included in the following Office 365 subscription plans
Enterprise E3
Most popular
$ 20 /user/mo
Desktop versions of Office
Microsoft Access
Office Online
OneDrive for Business
Exchange Online (Plan 2)
Skype for Business (with PSTN)
SharePoint
Flow
Teams
Office 365 Video
Business Premium
Great value
$ 12.50 /user/mo
Desktop versions of Office
Microsoft Access
Office Online
OneDrive for Business
Exchange Online (Plan 1)
Skype for Business (without PSTN)
SharePoint
Teams
Flow
--
Business Essentials
Mobile and Light users
$ 5 /user/mo
Office Online
OneDrive for Business
Exchange Online (Plan 1)
Skype for Business (without PSTN)
SharePoint
Flow
Teams
--
--
--